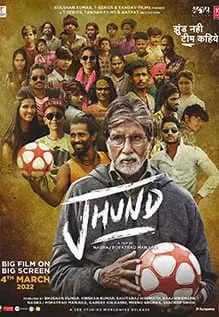 Amitabh Bachchan Portrays Nagpur's Vijay Barse Jhund
Directed by Nagraj Manjule, "Jhund" is reportedly based on the life of Maharashtra's winter capital city's common man Vijay Barse, who is the founder of Slum Soccers football team of slum kids. Big B plays the role of a professor who channelizes the street children to build a soccer team.
Megastar Amitabh Bachchan's upcoming sports film Jhund, directed by Nagraj Popatrao Manjule, release worldwide in theatres on March 4th, 2022.

Vijay Barse is a social worker from Nagpur, India. He founded Slum Soccer, is an organization that uplifts underprivileged children through football.
Vijay Barse is the founder of Slum Soccer. Slum Soccer conducts state-level and national-level tournaments. It is said that after his retirement Vijay Barse received 18 lakhs and with that money he bought a few acres of land. After which he planned to build an academy of football for the underprivileged. Vijay Barse was a sports teacher in a renowned college named Hislop College, Nagpur. Vijay Barse said that he got the idea of starting Slum Soccer when he saw some underprivileged children playing football in the rain with a plastic bucket.
Children who are underprivileged play football there and get to achieve their dreams to play for the Indian national football team. Among those children, a guy name Akhilesh was selected for the Indian team and he was also selected as the captain of the Indian team. The team also went to Brazil for playing the Slum Soccer World Cup.
Vijay Barse specifically mentioned how 'Bacchan Saheb' captured nuances of his personality that unnoticed even by his the family member in a Times Nagpur interview.